You are kindly invited to participate in this Conference: 160 oral presentations, 90 poster presentations, plenary lectures, panel debates,symposia, workshops, special sessions, fieldtrips. The Conference is organized to progress on developing basic knowledge and exchange experiences and tools for managing and integrating wetlands as part of socio-ecological development.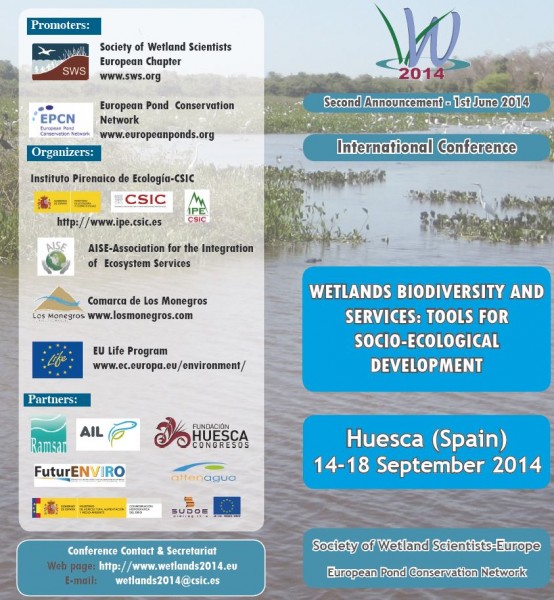 The Conference will cover all the topics related to all types of wetlands, their ecology, management, and applications.
Particular emphasis will be given to subjects dealing with wetland restoration and creation and the integration of wetlands with socio-ecological issues: wetlands as buffer pollution systems; integrating wetlands as part of the landscape in order to use their benefits and services; restoring and creating wetlands at landscape and watershed scale; green infra-structures; wetlands as key points for ecotourism and development of rural areas; use and valuation of wetlands for providing natural resources and alleviating poverty;
strategies and practical solutions for environmental conflicts related to wetlands, the contribution of wetlands to mitigate global change.
http://www.wetlands2014.eu/
Wetlands Biodiversity and Services: tool for the socio-ecological development

,